Riverside Dental Centre Your Dentist in Red Deer
At Riverside Dental Centre, we extend a warm welcome to patients in Red Deer and the surrounding communities. As your top-quality dentist in Red Deer, we provide a wide spectrum of dental services to restore and improve your smile. Drs. Brianne Lamey, Tracy Dawes, and Maria Syed will help you and your family achieve beautiful smiles at our dental clinic near you.
Devoted to Improving Dental Health with a Preventive Approach
Our dentist in Red Deer is dedicated to supplying patients throughout Red Deer County with individualized dental care. Our dental clinic near you works together seamlessly to provide comprehensive service for patients. Our dentist near you works to address several dental issues, including cavities, advanced tooth decay, teeth misalignment, gingivitis and gum disease, and discoloured, damaged, or missing teeth, as well we provide cosmetic and therapeutic neuromodulator (cosmetic injectables) treatments, as well as Dermal Fillers.
Treatments at from our dentist near you supply patients with comprehensive solutions to their dental problems. Contact our Red Deer dental clinic to book an appointment!

We are a Gold + Invisalign Provider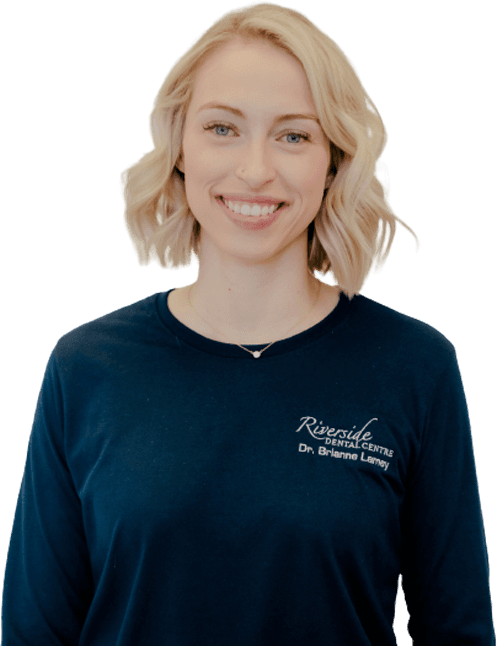 Dr. Brianne Lamey
Dr. Brianne Lamey graduated from the University of Alberta in June of 2012. She is originally from the Ponoka area and has been working at Riverside Dental Centre since 2013. She is excited to be in Red Deer. Her interests are in General Family Dentistry and she is great with kids.
FOR MORE THAN 40 YEARS WE'VE PROVIDED
Delicate & compassionate care

direct bill insurance
Our goal is to provide our patients with exceptional and affordable dental care. That's why we offer direct billing and accept most insurance plans. At Riverside Dental Centre, you can receive treatment without breaking the bank.

Open evenings
We understand you're busy. That's why we offer extended evening hours to ensure you can receive dental care without compromising your schedule. We will do our best to accommodate your busy schedule.

emergency dental care
Our dentists at Riverside Dental Centre are prepared to treat any emergency. Please contact us if you or a loved one experiences a dental emergency. We will do our best to see you promptly.